I have been lucky enough to spend a lot of time in New York City throughout my life, and some of my favorite memories with my mother are the ones that we have made in Manhattan. I remember small glimpses of those trips, and they fill me with nostalgia.
I remember in 2011, when we were walking through Macy's in Herald Square. Colored skinny jeans were all the rage that summer in New York, but the trend hadn't trickled down to Tallahassee, Florida quite yet.
You know, Little Bit, whatever is in in New York now will be in in Tallahassee by the start of school, my mom told me, which I scoffed at. I was not going to wear pink skinny jeans on the first day of sixth grade! The thought mortified me, but low and behold, in three months, my mom drove me to Dillards in Tallahassee to get the pink skinny jeans that everyone was wearing.
The older I get, the more I realize that my mother is right about everything. Apparently, so is New York.
I remember visiting in 2015, making a quick pit stop while touring colleges in the Northeast for my brother. On that trip, I remember appreciating Broadway shows for what felt like the first time. We saw the Lion King, and it struck me at that moment that there were children younger than I was, breathing the same air that I was, occupying the same space, and yet somehow feeling so far away as they produced voices and sounds that I could only ever dream of hearing escape from my body. The energy of the theatre was dynamic, magnetic, and it was a fascination that grabbed hold of me and has yet to let me go.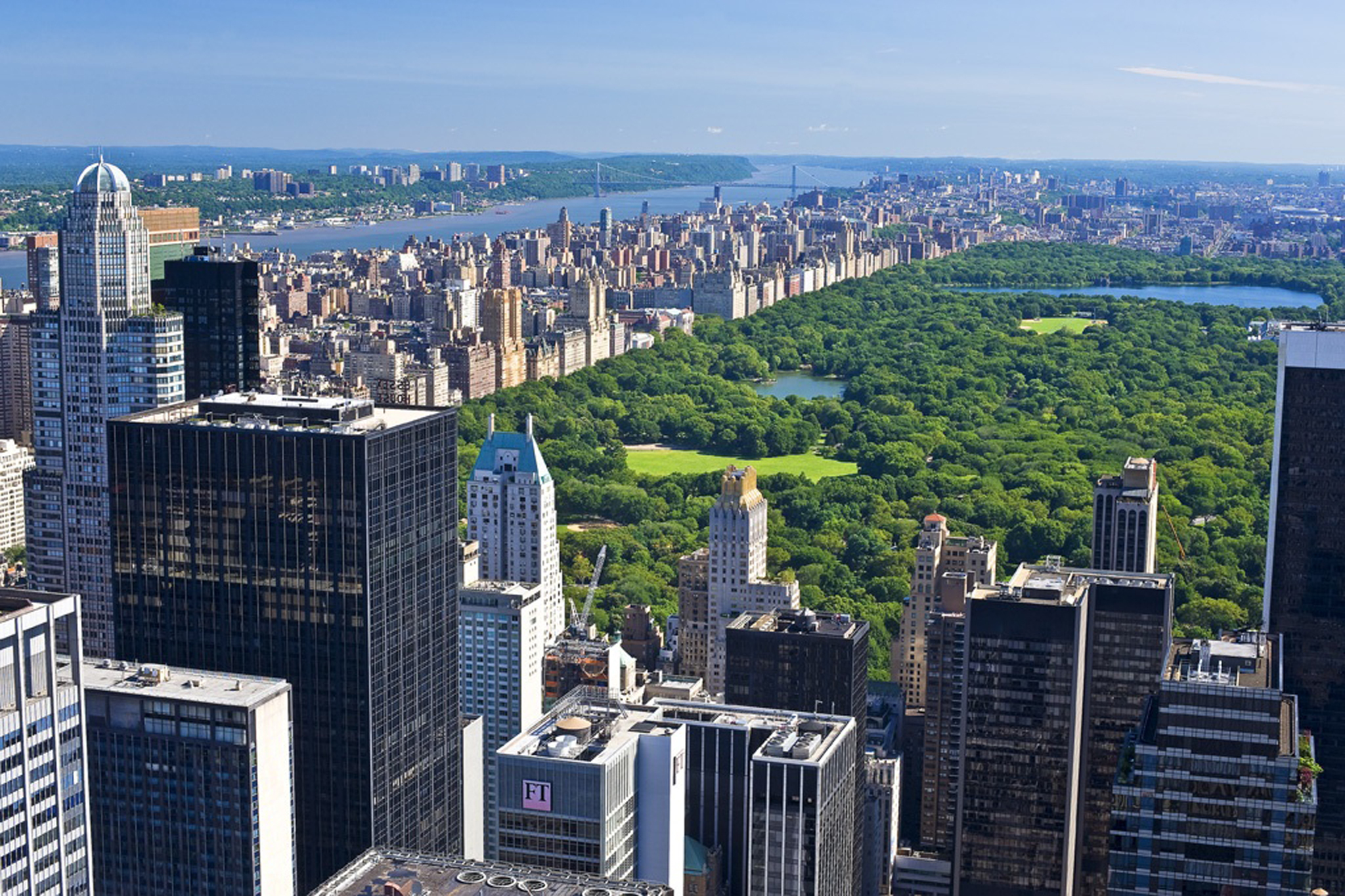 On the same trip, we went to the Top of the Rock, and the feeling I had on that fall day still lingers. I stood in awe of the city's vastness, feeling incredibly small, and loving every second of it.
If I'm feeling sentimental, I think it is fair to say that this was the trip where I first realized this city would always be my end game, my dream final destination.
The trip in April of 2017 was less idyllic.
A month earlier, I had a nasty, ugly break up with my high school boyfriend, and I was still stuck in that uniquely dark place that only high school heartbreaks can leave one in. How naive I was, in hindsight, to think that I would never be happy again, but that was truly how it felt at the time.
It was prom weekend, and I was supposed to be the underclassmen attending with my older boyfriend, feeling like a VIP celebrity at an exclusive party.
With the weekend creeping up, my mother was (understandably) worried about her now 20-pound lighter daughter with a light in her eyes suddenly dimmed. Being the angel that she is, she planned a weekend away in our favorite place: New York.
If I couldn't feel like a VIP at prom, I could at least be in Manhattan, and I think she knew that was the next best thing. If any place could make me feel okay, it was New York. That weekend was hard, which I know sounds silly because it was high school and prom and in the grand scheme of the world these are not great tragedies, but they were my unique heartbreaks, and I felt them deeply (virgo-problems, I suppose).
We spent the weekend together – shopping, eating, seeing shows, talking, and even crying. She listened to me, validated me. That weekend, I was allowed to feel my emotions as they came, and the city began to heal me. The city showed me that there was so much left to look forward to.
There was New York left to look forward to.
I could go on for pages and pages. I remember so many snippets of cherished time in Manhattan throughout my past twenty years: the American Girl doll store feeling like christmas morning, the grand piano at FAO Schwarz, the Rockefeller Center Christmas Tree, Hamilton on my eighteenth birthday, touring NYU and imagining the life that I could have if I chose that path (I still wonder sometimes if I should have chosen that path), eating copious amounts of pasta at Carmines, exploring art museums with my older brother, meeting my freshman year roommate one beautiful spring day in Soho, always hearing the story of my parents first date to Ellis Island, stealing a weekend in Manhattan just before Covid with my freshman year best friend.
All of these memories are so vivid in my memory, like if I could just think a little harder, I could be back in them. And I do wish I could go back to all of them.
As someone with an admittedly bad memory, I've recently started wondering just why and how the memories from Manhattan cement themselves so firmly within my being. Somehow, being there makes my senses as acute as they've ever been, soaking in every aspect of the world, committing every sensation to memory.
Few places allow me to move through the world with so much awareness.
This summer, I was supposed to study abroad in Oxford. That was the plan. But as the past eighteen months have repeatedly taught me, plans fall through.
After the cancellation of study abroad, I began to concoct a plan to move to New York City for the summer and work in publishing .
Where was I going to live? Who knows! Who would I know there? Who cares! How would I support myself? That's a problem for another day!
All I knew for certain was that come June 1, I would be living in Manhattan and working in the publishing industry. The rest of the plan was just details.
It's funny – it never occured to me that it was impossible. I never thought that I would be unable to find a job, or an apartment, or a way to sustain itself. It always felt possible, and once I decided it was the goal, I was certain it would happen.
I knew I'd find a way to make it happen precisely because I needed it so badly.
After having the most emotionally draining and mentally trying year of my life thus far, escape from Athens felt necessary, vital. I was desperate for change, for a new place to revive my mind, body, and soul after a year of consistently losing myself, losing my happiness. I wanted to start over, even if it was just for three months.
After a year of struggling against mental health, I wanted to find myself again, needed to find my joy again. What better way to do that than working with books in the city that magically heals?
Escaping felt as necessary to my existence as breathing, and where better to escape to than the city that forces me to feel alive and aware.
But I had to find a job.
I spent all of April and May cold-emailing every literary agent, scout, and publishing house I could find an email for.
Due to COVID-19, my late applications, and my lack of professional experience in publishing, the rejections came pouring in. One after another.
Until one day, I received an email from a literary scout, Barbara Tolley, saying that she was unsure whether or not she was taking interns, but that she would like to interview me anyway.
The pressure was on. I not only had to convince her to hire me, but also to hire anyone at all. I had to convince her that I specifically would be worth her time. She gave me an open door, and I had to make sure I walked through it.
I studied for the interview for fifteen hours. I prepared obsessively. I read everything I could get my hands on about scouting, her clients, and these types of internships. The interview was my hail mary – all else was failing, and this was the shot.
And just one week before my move in date, Barbara Tolley offered me a job, which I will be forever grateful for.
I was on the eve of my dream coming true, and it was an unbelievable feeling.
We arrived on May 31, 2021 and moved into our Murray Hill apartment, which was a few hundred square feet of nothing but love. Our hallway doubled as the kitchen, and our cabinets were broken, and we had no windows in our living room, and our couch was a futon, but I loved every inch of that little space. It felt more like home than any place I had ever lived.
While I would love to detail every second of the summer for you in hindsight, I kept a journal every day for the entirety of the summer, and it feels more fair to let that voice speak in this post. After all, she was the one experiencing, feeling, and living in those moments, and my god were they beautiful moments.
Excerpts from my journal:
June 1:
First morning in our sweet Murray Hill apartment. Freshly brewed coffee, candle lit on the coffee table, lumineers filling the room. Feeling so grateful, and so very shocked that this is real. How long have I dreamed of this very moment? How long have I imagined sitting here, having this very feeling? This is my life, and I think this will be my favorite chapter. This is gonna be a good one, I can feel it.
June 2:
I adore being here. New York has this magical power to make all else fade away – it feels like the center of the world, like the only place that has ever mattered, will ever matter.
June 3:
Today is our first rainy day in New York, which admittedly makes it feel more real that we are living here. When have I ever had a lazy, rainy day in Manhattan? When have I ever not been sad on a rainy day? Today, for the first time, I don't mind the rain.
June 6:
Today after bottomless brunch we went thrifting and came away with some awesome purchases, including, but not limited to: 4 forks (yes forks), rings, 2 fridge magnets (one from Jerusalem and one from Maine), and an 80s unitard that I love …. In Bryant Park last night, it really hit me for the first time that this was my life, is my life. I've dreamed about this day for years – the day I finally get to call New York City home. And now it's here. We sat in the park, ate brie and crackers, drank a bottle of wine, and soaked in every damn second, every cherished feeling. It was ethereal, and filled my heart with so much joy. I truly love the version of myself that I am when I'm here … I woke up this morning around 8, and every morning it still surprises me to see a skyscraper outside of my window. I wonder if I'll ever get used to that, if I'll ever wake up not in awe of my life. I hope I don't.
June 10:
Every morning I wake up surprised that it wasn't a dream – that I'm not in Tallahassee or Athens (I don't know which would be worse). Maybe I am just attracted to greater things, greater places than either of my small towns have ever offered. Right now, I'm sitting in the green grass in Central Park, a place I have been dozens of times. But right now, I swear it feels brand new. Here, entirely alone, with no schedule and so much time ahead of me. The birds are chirping like they are happy I'm here. The sun is peeking through the leaves above me, in that magical way that makes them all sparkle. The wind is in my hair, and I can see the city skyline just in the distance, like it's saying hello. There are so many wonderful humans in my view. Of course I don't actually know any of them, but they look wonderful, full of joy, full of energy. There is a group of six friends sitting in front of me taking loads of hugging pictures. A woman basking in the sun, laying in the grass in her white t-shirt, clearly unconcerned that she's almost certainly going to come away with grass stains. I'm also wearing a white t-shirt, but I am scared of grass stains. Maybe if I stay here long enough, I won't be. Maybe I'll even bask in the sun! A family of four, two toddlers certainly younger than five, having a picnic. A mom and her baby snuggling on a blanket, both blissfully asleep. At least three couples holding hands within my view. A dad and his son throwing a baseball, the dad correcting his child to follow through.
It's strange, you know, how everyone says this city moves so fast, how it never slows down to simply be. But to me, right now, right here in this park, the city feels very, very slow. Everyone I see is sucking all of the marrow out of life. Smiling, laughing, hugging. No, right now, the city feels perfectly slow. And I am perfectly content – I do not know the last time I was able to say that in earnest.
June 14:
Obviously, Covid did quite a number on New York City, but there are certainly some silver linings to be found in being here during the summer that the city comes back to life. For one, the Met capacity is significantly reduced, and many times, Mae and I found ourselves alone in a room of Monet's, Picassos, Renoirs, Greek marble sculptures (which allowed me to have my own Keira Knightley/Elizabeth Bennet moment). It was wonderful, and an afternoon surrounded by copious amounts of art was precisely what I needed … I love that with each new day, each new week, the city is always offering something new … the more time I spend here, the more I could see myself being here forever. It is electric, contagious, with the most magical energy of any place I've ever inhabited.
June 21:
I woke up a nervous wreck for my first work lunch … We spent the whole lunch talking about books and the publishing industry and all the things my nerdy self adores. The more I see of the publishing industry, the more I think that it is where I am meant to be – it truly does not feel like work.
June 24:
Last night we took the Staten Island ferry at sunset, and we got lucky enough to ride on the Western facing side of the boat. The view was absolutely stunning, leaving from Battery Park and sailing past the Statue of Liberty towards Staten Island. It was a perfectly clear night, and the sky burned red and orange. At one point, I could have sworn the Statue of Liberty was holding the sun in her hand, reaffirming the feeling I frequently get that Manhattan is the only place that matters. In that moment, watching the sky burn over the city, I would have sworn I;d never been happier. I would still swear on that feeling, and I think I'll be chasing that feeling for a long, long time. Right when I thought nothing more beautiful could exist, we took the ferry back towards Manhattan, this time far past sunset and with a brown paper bag bud light. I realized something then – no matter how many times you see the manhattan skyline, its beauty never fades, never falters. I thought I would get used to it, to the lights and the buildings that I swear sometimes touch heaven itself, the impossibility and the majesty of it all. And yet, everytime I see that skyline, it feels like the first time.
July 2:
It is so hard to believe that we've already been here for a full month. Time is absolutely flying, and the longer I spend here, the harder it becomes to ever imagine going back to life before this.
While there are so many more anecdotes I could share, these feel sufficient to summarize how I feel about this city. I have fallen completely, entirely in love with New York City this summer. For as long as I've been alive, I have always felt the urge to run away.
New York is the first place that makes me want to stay.
Getting my first glimpse of the publishing industry, too, cemented my hunch that my dreams are right. I do want to work in books, forever, and my experience at Barbara Tolley & Associates only further validated that feeling. In finishing the internship in August, I wrote the following letter to Barbara, my fearless, inspiring, and brilliant boss:
"Barbara,
I have dreamed about working in the publishing industry for the better part of five years, and there are not words that seem good enough to express my gratitude for the opportunity to work at Barbara Tolley & Associates this summer.
This internship has allowed me to grow professionally, academically, and personally. I have learned to read in an entirely new way, and I have gained an incredibly useful new skill set through writing reader's reports. I know that the lessons learned this summer will translate well both to the classroom and to my future career endeavors, and I cannot thank you enough for providing me with the opportunity to learn from you over the past few months.
Most of all, though, I want to thank you for your kindness, generosity, and willingness to share your wide breadth of knowledge with me. While working for you, I truly felt that there were no stupid questions, and I continually felt pushed to better myself, my reading, and my writing in an encouraging environment. I can't imagine a better person to begin exploring the publishing industry under, for you made the experience fulfilling, enjoyable, and incredibly educational.
Please do not be a stranger, and if there are ever any manuscripts you want a second set of eyes on throughout the year, please don't hesitate to reach out to me. These past 2.5 months at Barbara Tolley & Associates have only cemented the feeling that publishing is the field I am meant to work in, and I cannot think you enough for providing me with that clarity.
I will miss you all dearly, and I hope to continue to learn from you in the future."
And I meant every word. I do miss them all dearly.
Last summer, I learned a lot of things. But here are a few:
I learned what I need to be happy, and I learned that it truthfully isn't a lot. I need a comfortable home with people that soothe my soul. I need home cooked meals and a room with big windows. I need a few, deep friendships, rather than the large friend groups I have spent my life chasing. I need outdoor spaces and music. I need coffee and I need books. That feels like enough.
A life in New York looks much different than a vacation in New York. There have been sad days, anxious days, doctors appointments, tears, naps, and more real life than I expected.
A sad day in New York is better than a sad day anywhere else.
An unlimited metro card is entirely worth the investment
It's impossible to do it all, but it is possible to do a lot
Days go slow here, but weeks move fast
Loneliness in the city is normal, expected. I learned to take the time to have a better relationship with myself, to enjoy my own presence and follow my joy wherever it may lead.
Above all though, I learned that self-love is the most important skill to cultivate. I worked on healing my relationship with food, with my body, with myself. I let go of things and people that no longer serve me. I learned to value the good things and the good people. I valued my happiness in a way that I never had before, and this skill followed me back to school in the fall.
The summer of 2021 fulfilled my childhood dreams of living in Manhattan, that is true.
But it has also given me so many more important gifts, profound lessons, and self help skills that I never developed before. For me, New York will always be both magnet and muse, and I will be counting down the days until I return.
Wherever I may go from here, I hope my feet always bring me back to the books of Manhattan.